How To Write A C1 Advanced Email
Do you want to know how to write a C1 Advanced email for part 2 of the CAE:
C1 Cambridge
exam? Watch the video below and you will see some really useful advice...

Hi, this video is available for CAE student members only. In order to see this video, please register here or log in.
How To Write A C1 Advanced Email - Technique
1. Make sure you know how the examiners mark the exam. I made a page explaining this here.
2. Learn what the examiners are looking for from an email. Read my summary in the next few points.
3. Do timed practice examples before the exam. This will help you know how long the exam lasts.
What and how you write in an email largely depends on the question, so...
4. Take 2 minutes to read the question and underline the key parts.
- Make sure you know who the target reader is. "Candidates can expect to be asked to write to, for example, the editor of a newspaper or magazine, to the director of a company, to a school or college principal, or to a peer". Cambridge English Advanced Handbook for Teachers.
5. Take another 5 minutes to plan your answer.
- Make sure you read the question properly so you know whether you can give more personal information, for example, to a magazine or if you need to present more factual information.
You might be asked:
"to reassure somebody, to correct a misunderstanding, or to justify a course of action". Cambridge English Advanced Handbook for Teachers.
6. Spend 30-35 minutes writing your answer with a pen, pencil or on computer if you plan to do the computer based exam.
Make sure you answer all the required parts of the question.
Make sure you develop your points fully. This will help you to show more vocabulary and use different structures.
It is important to show that you can link your ideas together.
Try to use complex language. Even if your language isn't perfect, if the examiner understands what you mean, you will be rewarded.
7. Spend 3-8 minutes reading over your work at the end.
Reading your work at the end is very important. Make sure you save a few minutes for this! Especially watch out for mistakes which make it difficult to understand the meaning. Some typical mistakes students make are not matching the verbs with the subjects, for example 'the people was staring at him...' rather than 'the people were staring at him'. 'People' is a countable plural noun! Check out this page for other common errors at C1 Advanced. 
8. After completing a few practice tasks, look how long your writing is on the page. Remember this so you know approximately how much you need to write in the exam. This way you don't need to waste time counting how many words you have written at the end.
C1 Advanced Email Sample - Instructions
Read the email question below and then read the sample answer my student wrote.
Right click and print off the example answer if it's easier (you should be able to save the image).
Write down any extra mistakes you find in the writing and make any corrections you think are appropriate.
Download the

examiner's assessment scale here

and complete this.
  When you finish doing these 4 things, jump up and down with a BIG SMILE on your face - it's a lot of work doing the 4 steps above, but believe me, doing this will drastically improve your chances of success in the exam!
C1 Advanced Email - Sample Question
Your local sport and leisure club is having to shut down as the international company who operate it cannot afford to keep it running. You have organised a discussion with local residents and a few points were made: Children frequently use the club. The company should consider ways to keep it open and try to make it more profitable. Action: write an email for the local residents asking the Managing Director of the company to reconsider. Write your email to the Managing Director. (Between 220 and 260 words)
C1 Email - Sample Answer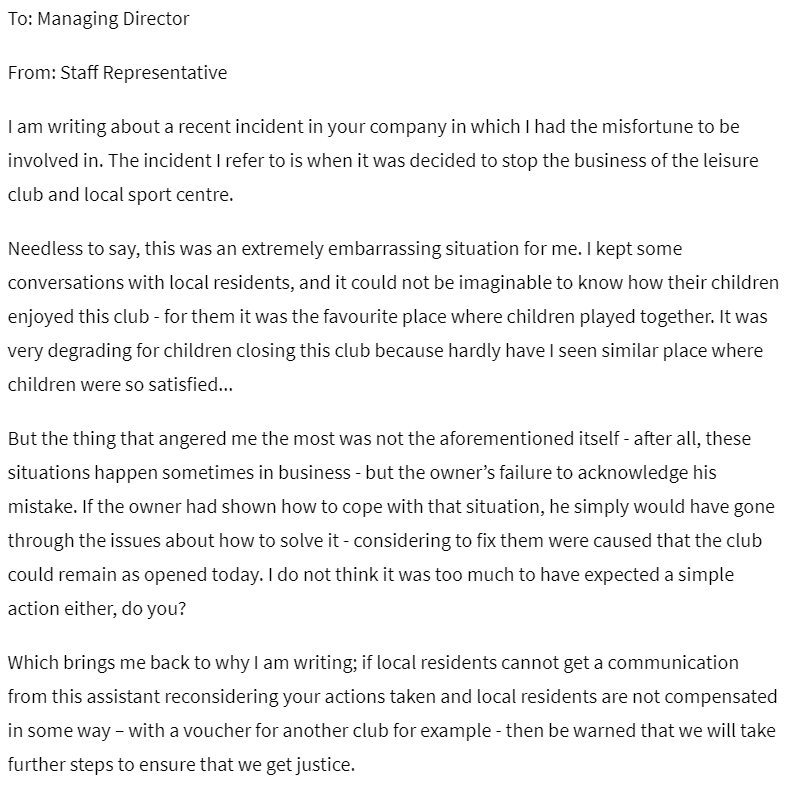 Cambridge Writing Assessment Scale
Download here
.
| | | |
| --- | --- | --- |
| Subscale | Mark (1-5) | Commentary |
| Content | | |
| Communicative Achievement | | |
| Organisation | | |
| Language | | |
Cambridge C1 Email - Sample Answer With Feedback
To: Managing Director
From: Staff Representative
I am writing about a recent incident in your company in (don't say 'in' here because you say it at the end of the sentence) which I had the misfortune to be involved in. The incident I refer to is when it was decided to stop (I think you could write this in a simpler way) the business of the leisure club and local sport centre.
Needless to say (good expression), this was an extremely embarrassing situation for me. I kept('had' - we don't 'keep' conversations) some conversations with local residents, and it could not be imaginable to know (it's better to say-  'we were not able to imagine')  how much their children enjoyed this club - for them ('them' is the parents or the children?) it was the favourite place where children played together. (Closing this club) It was very degrading (I think you could use a better word) for the children closing this club because hardly ever have I seen a similar place where children were so satisfied...
But the thing that angered me the most was not the aforementioned itself - (after all, these situations happen sometimes in business) (better to use '( )' rather than '-')  - but the owner's failure to acknowledge his mistake. If the owner had shown how to cope with that situation, he simply would have gone through the issues about how to solve it - considering to fix them were caused that the club could remain as opened today (this is too difficult to read, you should say 'fixing the problems could have allowed the club to remain open). I do not think it was too much to have expected a simple action either, do you? (I wouldn't ask an interrogative question like this to a Managing Director).
Which brings me back to why I am writing; if local residents cannot get a communication from this assistant reconsidering your actions taken (if local residents do not receive communication from the club's assistant concerning your actions) and local residents are not compensated in some way – with a voucher for another club for example - then be warned that we will take further steps to ensure that we get justice.
C1 Advanced Sample Email Critique
Subscale

Mark (1-5)

Commentary

Content

3

The content could be more focussed on the ways in which to keep the club open and less on the previous flaws of the club including how they managed the situation poorly.

Communicative Achievement

3

Some complex grammatical structures are used in lengthy sentences and while it is good to show this variety, it can also interrupt the flow of your writing at times, meaning the ideas get lost slightly.

Organisation

3

The overall organisation of the writing is fine with a strong introduction and conclusion. Sometimes the organisation within a paragraph is let down due to the language.

I would write an appropriate ending, for example 'Yours faithfully,

Jonathan Bishop'

Language

2

You have used some less common words and phrases appropriately, '

needless to say…

'

But sometimes because you are using complicated structures, it makes it more difficult to read and understand the ideas.

The language is also a little informal at times because the email is to a 'Managing Director', for example, using '- -', '...' and '?'
C1 Advanced Sample Email Mark
Content = 3
Communicative Achievement = 3
Organisation = 3
Language = 2
Total = 11/20
If you got the same marks for the essay in Part 1 of the Writing exam, you would get 22/40 in total which would be a narrow fail in this paper.
You need to average 60% or more across all 5 exam papers in order to pass.
Your certificate will show you have a B2 level of English if you are close to 60%.
If you have any other questions about this part of the exam, I might have answered them here.
You can send me a writing task to mark here.
C1 Advanced Email Example
If you would like to see me critiquing another real CAE student's email writing, you should watch the next video. There is some really useful guidance in the video for you as well:
subscribe
to help more people find my work.
If you join this website you will get access to all my CAE videos and resources, including sample papers and my new and exclusive Facebook group.