How To Write A C1 Advanced Letter
Do you know how to write a successful C1 Advanced letter? If you want to watch my official C1 Advanced letter video from my CAE course, you'll have to
register for CAE membership
or if you're already a member make sure you're
logged in
.

If you have registered and watched the video above, thanks a lot!
If for some reason you do not want to register, here is another CAE letter video I made which should be useful for you:
C1 Advanced Letter Question
You have recently sent this to your brother:
".... Make sure you don't go to Paul's restaurant for your anniversary. I went there last week - and the service and food were both terrible! I spoke to the manager and he asked me to send my thoughts in a letter …"
Write your letter of complaint to the restaurant manager (around 220-260 words)
C1 Advanced Letter Plan
Write a plan for the question above online here or print off this hard copy.
C1 Advanced Letter Sample Answer
Read the sample answer below and correct any mistakes you find on it. You can download the sample answer, print it off and correct it here.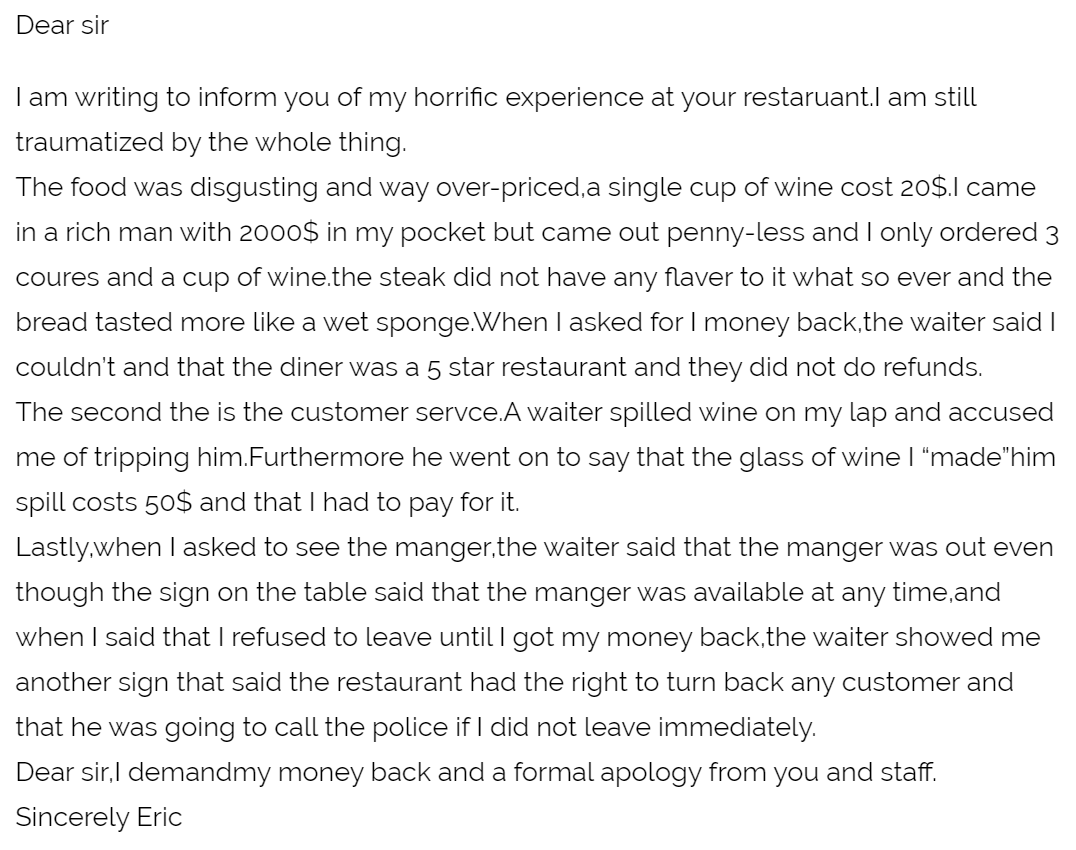 Examiner Assessment Scale
It's really good practice for you to mark other students' writings in the style of an examiner. So, open this assessment scale or if you prefer writing by hand, print off this hard copy assessment scale. Then, complete them based on the answer above.
C1 Advanced Letter Sample Answer With My Comments
Before you read my corrections, make sure you have tried to find the mistakes on the answer above and then compare your mistakes with the ones I found below.
Dear Sir,
(I recommend indenting the first line of a new paragraph)
      I am writing to inform you of my horrific experience at your restaurant. I am still traumatized by the whole experience thing. ('experience' is a better word, it's a more formal word).
      The food was disgusting and way overpriced, a single cup of wine cost $20. I came in ('walked into the restaurant' / 'entered the restaurant') a rich man with $2000 in my pocket but came out ('left'- most phrasal verbs are informal, so it's better not to use them in formal writing) penny-less and I only ordered 3 courses and a cup 'glass' of wine. The steak did not have any flavour to it whatsoever ('whatsoever' is a little informal, 'at all' would be better) and the bread tasted more like a wet sponge. When I asked for I 'my' money back, the waiter said I couldn't and that the diner was a 5 star restaurant and they did not do refunds. You could also write: 'The waiter told me that it was a 5 star restaurant and they did not refunds and therefore he would not be able to return my money'
     The second the ('problem'/'issue') is the customer service. A waiter spilled wine on my lap and accused me of tripping him up/over. Furthermore, he went on to say 'claimed' that the glass of wine I "made"him spill costs $50 and that I had to pay for it.
     Lastly, when I asked to see the manager, the waiter 'told me that he' said that the manger was out even though the sign on the table said that 'he' was available at any time. ,and  When I said that I refused to leave until I got my money back, the waiter showed me another sign that said the restaurant had the right to 'refuse to serve' turn back any customer. and 'Afterwards, he said that he was' going to call the police if I did not leave immediately.
I demand my money back and a formal apology from you and 'your' staff.
                                                           Sincerely Yours faithfully,
                                                           Eric 
If you write 'Dear Sir/Madam' you should finish…..'Yours faithfully'
If you write 'Dear Mr/Mrs name' you should finish…..'Yours sincerely'
Examiner Assessment Scale Template With My Comments
Have you completed an assessment of the sample letter? Good. Now you should compare your assessment with my assessment below.
Subscale

Mark (1-5)

Commentary

Content

3

All the content is relevant to the task and the student has written an appropriate number of words. The points in the question about 'service' and 'food' have both been addressed. More information could be given to the food and the introduction and conclusion could be stronger.

Communicative Achievement

2

The overall feeling and arguments are put across. Nevertheless, these could be more distinguishable with a combination of greater consistency and organisation. I think that this letter probably was not planned in much detail beforehand and it would benefit greatly from this.

Organisation

3

The overall structure of the letter is clear. However it could be made more obvious and easier to follow through adding a space between paragraphs and being consistent with the language used when introducing new paragraphs. The first body paragraph which addresses food also includes a sentence about service 'when I asked for I money back...', this would be better suited to the second body paragraph. The third body paragraph is well developed but if it was split into more than one sentence, it would be easier to read.

Language

3

There are many appropriate formal words and phrases used, e.g. 'inform you', 'furthermore'. However, there are also some other informal expressions used, e.g. 'the whole thing'. The letter would benefit from more consistency.

Some of the conventions of a letter have been used 'Dear sir' but if you do not know the name of the person and start with 'Dear Sir/Madam' you should end the letter 'Yours faithfully'. 'Sir' should also be capitalised.

Some good linking words and phrases have been used to link ideas and show progression,  'furthermore', 'even though'. Again these could be more consistent 'the second the...' and 'lastly' could be 'secondly' and 'thirdly'.

The letter could be improved by attempting a few more complex grammatical structures.
C1 Letter - Pass or Fail
The marks I have given this letter are:
Content: 3
Communicative Achievement: 2
Organisation: 3
Language: 3
That is a total of 11 out of a possible 20 marks. In the exam you need to get 24/40 or average 12 for both part 1 and part 2 of the writing test in order to pass this paper at a C1 level. Remember, you do not need to pass every exam paper in order to attain your C1 Advanced certificate. Nevertheless, I tell my students they should really be averaging 70% or higher in practice tests before applying to do the exam. This is because many students comment that the actual exam is harder than the tests they do beforehand.
I was uncertain whether this letter deserved a pass mark or not. It was borderline in my opinion, but I judged it slightly more harshly because from what I've heard, the examiners take no prisoners.
CAE Tip: Did you notice I wrote the idiom 'take no prisoners' in the last sentence? When someone takes no prisoners, it means they do not compromise in the pursuit of their goals. So good luck in the exam hahaha 😉 Just kidding, if you are reading this page and you signed up to become a member of my website then you are clearly very motivated and giving yourself the best chance to pass the exam!