CAE Listening Part 1
Do you find it difficult to understand English people speaking?
Do you think 'listening' is the most difficult exam paper?
Well...you are not alone...
I asked this question to my youtube audience a few weeks ago and this was their response: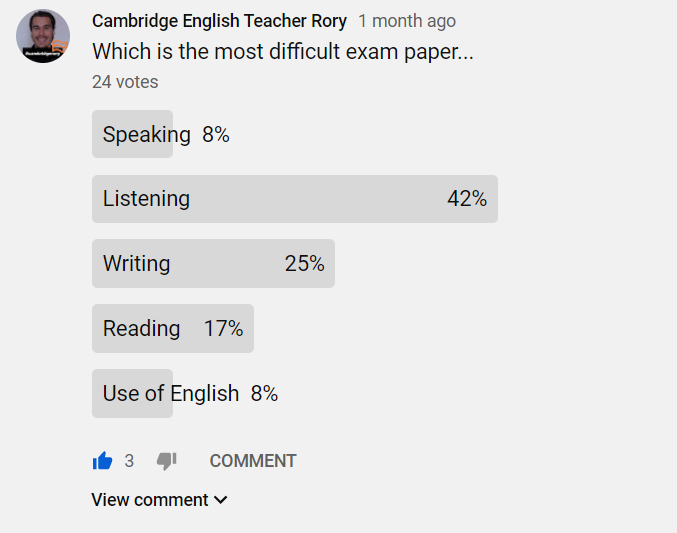 If you want to connect with me on YouTube, subscribe here and then head over to the 'COMMUNITY' tab to see more posts like this.
CAE Listening Part 1 Format
In the CAE listening part 1, you need to listen to 3 different conversations, normally between 2 people. There are 6 questions in total, so you have to answer 2 questions per conversation.
The questions are multiple choice with a,b,c options. Remember you get to listen to every listening track 2 times!
The exam is often tricky because there are some words and phrases (distractors) which try to make you choose the wrong answer. The following technique should help avoid these 'distractors':
CAE Listening Part 1 Technique
Watch this video and make notes of the key points. If you have a quick summary of the technique on a piece of paper, it will be easier to remember and use. Follow the lesson and complete the practice exercises with me. Watch till the end of the video and complete the homework exercise.
Handbook for Teachers
CAE Listening Questions
CAE Listening Part 1 Extract 1 Audio File
CAE Listening Part 1 Extract 2 Audio File
CAE Listening Part 1 Extract 3 Audio File
Listening Answer Key - page 2
1. Before listening to each extract, you have 15 seconds to read the 2 appropriate questions. During these 15 seconds, put your hand over the a,b,c options and read the 2 questions underlining the key words.
2. Keep your hand over the a,b,c options and listen the first time. Try to decide what you think is the answer for each question.
3. Before the second listening, remove your hand and see which option is most similar to your thinking. Put a mark next to that answer.
4. The second time you listen, see if you are correct.
C1 Advanced Listening Part 1 Tips
Please contribute advice, resources and experiences for this part of the exam below!
C1 Advanced Members
Remember you can join this website and access my exclusive facebook group, more sample papers and all my CAE videos and resources by becoming a member...
Additional Listening Advice
With the tips that I'm going to teach you on the next few pages, you won't need to worry about the CAE Listening paper again.
Extra CAE Listening tip: Listen to lots of different passages and books in English. I recommend signing up to audible and listening to English books every day, including 'The History of the English Language'.
You then have access to loads of different audio books. Here is another book which I recommend: